Presidents Message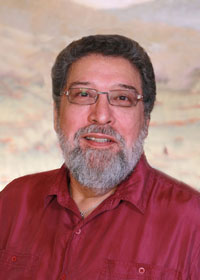 Dear Friends,

Hope this issue of the Reedwooder finds everyone well, healthy, happy and ready to attend our next general meeting on June 19 of this month. The fun band will be there at 6:30 as usual to start off our evening of music. In discussing the fun band at our last board meeting, we have realized that the group has been without an official leader since Steve Balich has been unable to continue in that capacity. Steve has always expressed his appreciation of our Scholarship Chairman, Frank Divita's playing ability, and accordingly the board has asked me to ask Frank to officially assume the position of leader. Xavier will continue to do the great job that he has always done as the band music librarian. We are anxious to hear another selection of our club songs this coming meeting.
The club will be selling discounted tickets to the Cotati Accordion Festival again this year. Cathy Patton has graciously volunteered to act as ticket sales chairperson for this year. Art Clark will, of course, be selling tickets as he has done in the past. You can see either Cathy or Art to purchase tickets. If you have friends attending Cotati this year, be sure to ask them if they would like to purchase tickets through our club. This will benefit the club and help them to save money at the same time. It's a win win deal.
The board has decided to have a pasta dinner at our general meeting in the month of August (August 21, to be exact). I have usually received positive reviews of my sugo at past dinners, so I have volunteered to prepare this again. Kris Nelson and Steve Albini have volunteered to prepare the meal as well. We'll be serving pasta with meat sauce, salad and Italian bread starting at 6:30 on the night of the meeting. All members and their guests are invited and encouraged to attend.
Ann Albertoni, our club secretary, and also President of the Sons of Italy Petaluma, has informed me that they are planning a picnic at Penngrove Park on August 13. See Ann for more information regarding this event. If you would like to perform on behalf of our club at this event, please talk to Ann about that as well.
Before I sign off, I want to remind you that if you haven't yet sent your annual membership dues to Diana Santi, you are in arrears so please do so to assure continued delivery of your Reedwooder.
Hope to see you at the next meeting, at the August 13 picnic (Sons of Italy), at the Cotati Accordion Festival and at our August 21 general meeting and pasta dinner.
Tony Mustaro
President
---
 April MEETING
Weylih is only 14 and had only been  playing for about 6 months.
His playlist was "Beans and Macaroni Soup," "Come to the Sea." and  "Over the Waves." Great Job Weylih, come back soon!
Ken plays very thoughtful his pieces. His playlist was "Under the Double Eagle" (marching tune), "My Old Kentucky Home," and "Spanish Eyes."
Thank you Ken; it is  always a pleasure.
Frank was, as always, in great form! His playlist was "Sentimental Journey Home," "La Companiola," "Just Another Polka," and to finish  off with a "Mazurka." Always a good night with Frank!
Sheri's playlist was both beautiful and informative. Her playlist was "Mon Manege a Moi"  (an Edith Piaf song composed by Norbert Glanzberg), "Meglia Stasera ", a samba , "It Better Be Tonight" by Henry Mancini  from the Pink Panther a movie​, and finished off with " La Rondinella " (The Swallow) an Italian mazurka. Great job Sheri.
Patty is the heart of Showcase and her husband Louie is the soul. They are our new members. Patty played her lively dance tunes and some of us even danced, Her playlist was "Breeze" (a tango), "It Better Be Tonight," and  "Light & Darkness." Many others were played, but I was too busy dancing to write them down. Please come back again soon.
---
April 2017 Jammers and Audience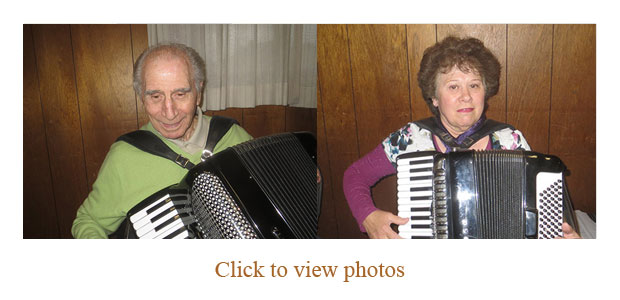 ---