Presidents Message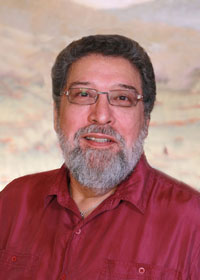 Dear Friends,
There are lots of activities coming up in the next few months. First, let me remind you that on Friday February 12 we are sponsoring and intimate concert featuring Tatiana Semichastnaya, a world class musician who studied in Russia and who is currently working in Las Vegas, along with Steve Albini an international musician and singer. This event will be open to the public and there is a cover charge of $10 per person. Finger food will be served as well. Please note that there are no free passes for this event.
Following close on the heels of the February 12 concert we will have our next regular meeting on Monday February 15. I have spoken with my friend Carlo Solivan and he plans on singing for the club at our monthly meeting this month. If you've heard Carlo perform you'll want to be there. Bring a friend.
I am hoping that Ron Borelli will be able to perform for us at our March meeting It's always a treat to have a performer of Ron's caliber play for us. I will let you know in the next newsletter if he is able to make it. I am making this announcement in advance so that you may invite friends and family to come hear this talented musician. More information is to follow.
As I mentioned in my last message, our annual Spring Fling Dinner Dance will be on Saturday April 16 this year rather than in March. This will place the event after the end of the Lenten Season in accord with several member requests. I would also like to invite our friends from the Petaluma Hermann Sons Lodge to attend this event as well. Remember that the Spring Fling will replace our usual monthly meeting for the month of April.
Another reminder that our yearly membership renewal season will be here shortly. Please get your renewals and membership dues to Diana on time. This will lighten her work load a little and eliminate the need for follow-up notices. While you're tending to your own renewal think about gifting a membership to a friend or relative who might like to join our club.
Once again I will remind you that elections for the coming year are coming up soon. There is a vacancy on the board which needs to be filled and all of the offices and board positions are open to election as well. If you would like to join us or replace one of us put your name forward.
On a very sad note I offer my condolences to my friend and fellow ACR board member Steve Albini and his family on the death of his father Tony Albini. Tony was a good friend to all who knew him and could often be seen lending his considerable expertise when there were meals to be prepared. He always had a good word for everyone. He will be greatly missed.
Tony Mustaro
President
Accordion Club of the Redwoods
---
 JANUARY ENTERTAINMENT
Frank was first up with a great playlist as always and played with heart. His first piece was "Canary Song," Opali Opala," "Campanela," and ending with "Amori Scusi Me." Great as always; thank you Frank.
Susanne is a past accordion scholarship student of Marge Konrad. Susanne never disappoints.
Her playlist was "Sparkly," "French Musette," and finished with "Over the Wave."
Susanne had to leave early as this was a school night and she had homework. Oh, and she is in the 7th grade. Thank you Susanne.
Ken is our newest member and a first time attendee and player at ACR. His playlist was "Chattanooga Shoe Shine Boy," "Jambalaya," "Cio Lito Lingo," and ending with "The Happy Wander" in both German and English. Boy, we hit the jackpot with him!
You may have noticed that Xavier's playlist is described in the first person, him. He has such great stories behind each piece, I asked him to give me both the playlist and story behind them.
"Because of the shortage of accordionists these days I have learned to come to our meetings prepared. I brought songs I had been working on and I was called to play them. The first was "Me and Bobby McGee" written by Kris Kristofferson and made famous by Janis Joplin. My second song was "Seven Spanish Angels" written by Setzer and Seals and made famous by Willie Nelson and Ray Charles. I also brought lyrics for two songs my Dad liked to sing, "Lilli Marleen" and the "Prisoner's Song." I appreciated everyone enthusiastically singing along. That would have been it but fortunately Sheri Mignano was at the meeting. Therefore, we played two songs that she has been helping me with, "Indifference" by Murena & Colombo.
I'm thankful to Sheri for helping me with these songs and making me look good.
Here I also asked Sheri to tell us about her playlist and the stories behind them.
1. Theme from the film Mondo Cane "More.".A great rumba and made a big hit by Andy Williams.
2. "Isle of Capri" made famous by Frank Sinatra.
3. Composed by Gorni Kramer in 1937 "Un Giorno Ti Diro." Someday I will tell you that I love you but for now, I'll sing this song.  Another fabulous Italian song we will feature in the Valentine's show at Cinnabar.
4. Edith Piaf's French classic "La Vie en Rose."  I see the world through rose-tinted glasses and I express love using a romantic lens.
5. "Un Gamin de Paris" a story about a street urchin in Paris who thinks he›s a toughie but it turns out he is just a kid in search of being loved.
Sheri and Xavier's duet was "L'indifference" a classic French musette waltz. composed by Joseph Colombo and "La Reine de Musette" by Peytronnin, two beautiful French musette pieces. Virtually all French musette music were written by immigrant Italians in Paris.
---
 Our January Jammers