Presidents Message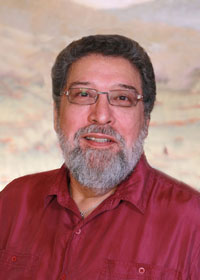 Dear Friends,
Well, it's August again and we all know what that means. Cotati Accordion Festival time!
Once again this year our club is selling discount tickets to the festival. This gives you an opportunity to save some money on your ticket and gives the club an opportunity to add a few dollars to the treasury. You can see Art Clark or Cathy Patton for tickets. You can also buy tickets for friends who will attend the festival.
This is the 25th year for the Cotati Festival and also the 25th year for the Steve Balich Band playing for dancers in the big tent. Steve Sr. is one of the original founders along with Jim Boggio and we are happy to congratulate him on this landmark year. The festival staff has lined up an impressive roster of American and international artists to perform this year and our club will have a booth at the festival again this year. We will have a couple of accordions for sale and a large amount of accordion music for sale this year. All will be at bargain prices so stop by the booth and say hello and pick up some new (to you) music to work on at home.
I would like to thank all of the club members who dedicated so much time, work and talent in order to stage the July daytime meeting and meal which so many members indicated that they would like to see the club sponsor. As you may know I was absent from this area for over a month due to a family illness and I appreciate all of those people who stepped up to make the event happen as promised.
Unfortunately, the turnout for this event was dismal. The event took so much time and work by the volunteers and the lack of support by the club's general population makes it very unlikely that we will be doing similar events again. I have asked many times to let the officers and board know what events and activities all of you would like to see us sponsor and a daytime meeting was the most requested item. I really don't know what else we can do to elicit more participation from the general membership. Once again, we are open to ideas so let us know what you a willing to support.
See you at the next meeting and at Cotati.
Tony Mustaro
President
Accordion Club of the Redwoods
---
Obituary
CHIESA, Joseph June 15, 1930 – August 15, 2015 On August 15, 2015 at 4:40 a.m., our Beloved Joseph M. Chiesa passed away peacefully at his home surrounded by his loving family, and after a prolonged battle with cancer. Joseph was born in New York City in 1930, the son of belated parents, Mary and Tony Armanini; father of belated daughter, Katherine J. DelNero, and belated son, Robert Henderson. .He is survived by his wife of 30 years, Donna Henderson Chiesa, and her children, Sheila (Joe) Ajuay, Laurie (James) Carew, Michael (Tricia) Henderson; his children, Joseph (Shirley) Chiesa, Jr., Mary Everitt, and Antoinette Chiesa. In addition, being such a loving person, he considered Joey Young, Jr and Phyllis Biehn, as his own. He is also survived by 14 grandchildren, 24 great-grandchildren, and his extended family in New York and elsewhere along with a multitude of very close friends. He excelled for many years in the Food Service Industry. In addition to the love he has for his family and friends and other hobbies, his favorite activity was to play his accordion as an Entertainer, at home and among his friends. As a member of the Accordion Club of the Redwoods, he oversaw the Scholarship program for new students of the instrument. Joe also really enjoyed those times when he was able to pilot an airplane, which was a life long pleasure. As a Veteran while stationed at Hamilton Air Force Base in Marin County, he visited Santa Rosa in the early fifties and made it his home. Joe was a fine cook, story teller and loved to make people laugh. The family wishes to extend their gratitude to Heartland Hospice Services and their teams for their support in his final days. Family and friends are invited to a visitation at Daniels Chapel of the Roses, 1225 Sonoma Avenue, Santa Rosa, California 95405 on Friday, August 21st, 2015 from 3:00 p.m. to 8:00 p.m. with a Vigil Service at 6:00 p.m. There will be a Funeral Service Saturday, August 22nd, 2015, at 11:00 a.m., Calvary Catholic Cemetery Chapel, 2930 Bennett Valley Road, Santa Rosa 95404. All are invited to a reception following the service where sharing of remembrances and music may be played.
---
Bulletin Board
---
Do you enjoy our meetings?
Do you enjoy our musical entertainment and dinners?
How about the camaraderie at the meetings?
Do you wish to continue as a member of the Accordion Club of the Redwoods ? ? ? Have you sent in your renewal payment ? ? ?  the yearly dues are $30. for member and spouse, $20. for individual.  Our annual membership runs from May 1 thru April 30.
Send your information and check (made payable to A.C.R)
to:  Diana Santi,
3 Sandalwood Court
San Rafael, CA 94903.
Hurry, hurry, time is running out 'til you are no longer a member.
---
Don't be shy……
If you have any "news" that you would like share with the membership, send your news items to Art Clark at thereedwooder@gmail.com so that we may publish them in the Reedwooder.
---
Morbidoni accordion for sale.
Has 5 sets bass reeds, 3 sets treble reeds, LMH configuration, 41 keys, 120 bass, 19 ¼" keyboard, weighs 24 pounds. Good reed response, good sound, smooth shallow keyboard action, tight bellows, good condition. Wax and leathers excellent, no rust or mildew. Black accordion, white straps, white back pad. $800 or best offer. George Bachich put it in good condition for sale. Call George (707) 738-5276.
Do you have some interesting news that you would like to share with the membership? By all means write it up and send your article to: thereedwooder@gmail.com If you feel you can't write an article, no problem, give us your information we will be happy to write it up for you……
---
AUGUST ENTERTAINMENT
Our annual Saturday luncheon meeting was held at the Hermann Sons Hall on Saturday, July 18. The beautiful music supplied by Xavier de la Prade, Meryle Dahl, Guy Richards, Steve Balich and Steve Albini made for some wonderful dancing and singing, the food was plentiful and prepared by Kris Nelson, Steve Albini, Elmo Fama, Johny Patton, Del Patton and Steve Balich and was served by Jane Tripi and Annette Casabonne. A big thank you to all that helped make this a truly wonderful day.
Sausage feed kitchen crew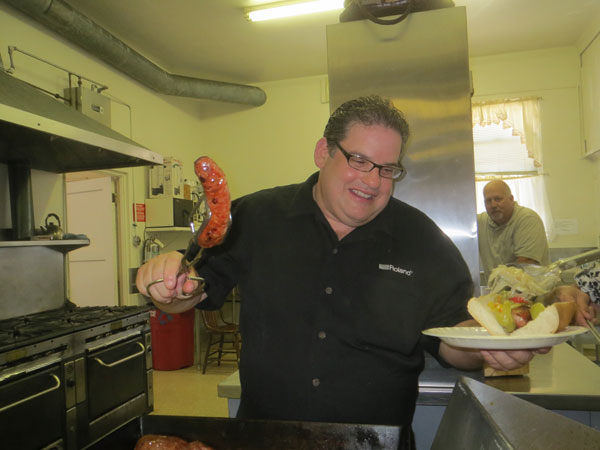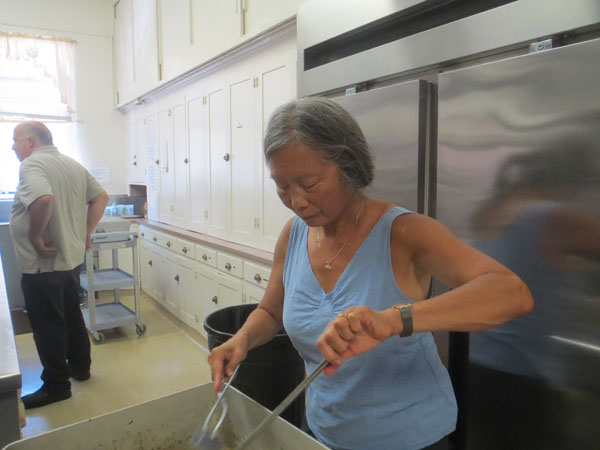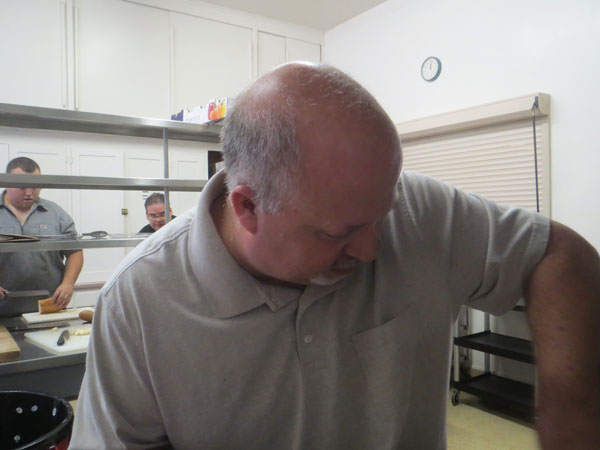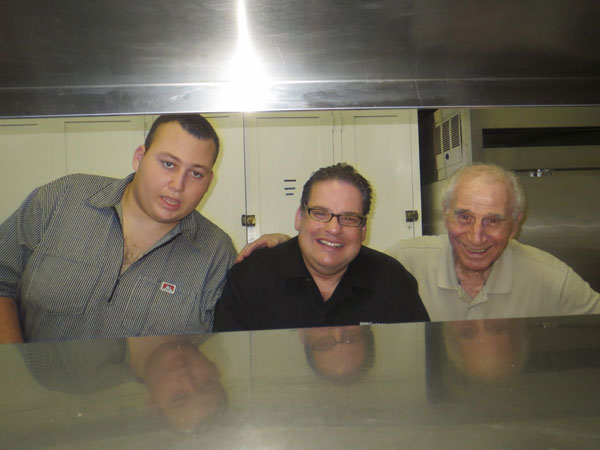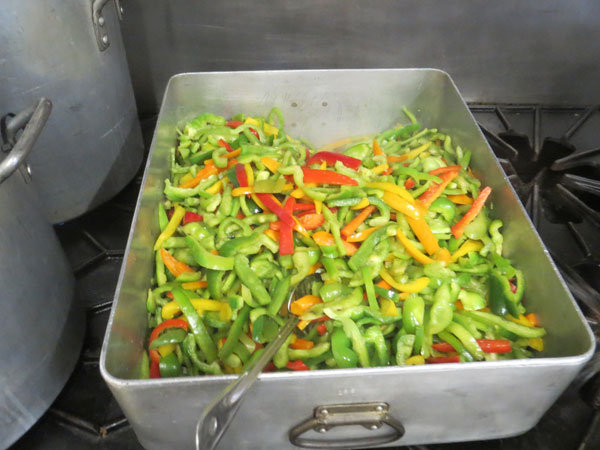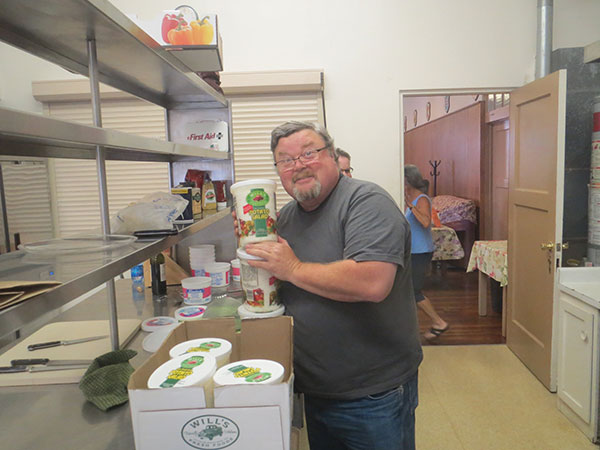 There wasn't the massive turnout that we expected and cooked for, but for those of us that were there, we had a heck of a good time. The music played and we danced and sang until after 4 PM.