Presidents Message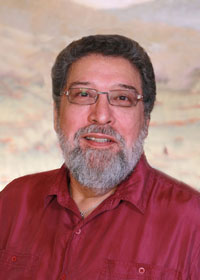 Dear Friends,
Although the turnout was much smaller than we had hoped for at the pasta feed before last month's meeting, those who came for dinner were enjoyed the food provided and for that reason we have decided to do it again for the month of June. I am posting this well in advance of the June meeting so that as many people as possible will be aware of this upcoming event. It's a lot of work to plan, shop, cook and serve a good meal for a large number of people so we are hoping for better support and a larger number of diners at the June dinner. It would be a great help if you would contact me by phone or email and let me know if you are coming so that I can plan on how much food to prepare.
Welcome to our two new officers: Kris Nelson – Vice President, and Diana Santi – Treasurer, and to our two new board members: Steve Albini and Art Clark. Steve and Kris are both also past ACR Presidents.
Once again many thanks to John Pordon our retiring Treasurer, Jan Terribilini our retiring board member and Steve Balich Sr. our retiring Vice President. These are the folks whose hard work and dedication over the years are responsible for the creation and the survival of our club. We hope to see them at the meetings for many years to come enjoying the fruits of their labor and having a well-deserved rest.
Kudos to our own John Pordon who last month was awarded the Medal of the Legion of Honor from the French government for his service to France as a US Army Infantryman in World War II. Please see details elsewhere in this issue.
I would also like to invite our friends from Hermann Sons Petaluma Lodge to attend our meetings which take place on the third Monday of each month when we are not having a special event such as a dinner dance. We usually have very good entertainment during these meetings and the boring business part is kept to a bare minimum. The fun band plays starting at 6:30 PM and plays for an hour. The evenings entertainers usually start to play around 7:45 PM. After the musical portion of the meeting we put out something to eat so you will not leave hungry. If you would like to receive information on our meetings and events we would be happy to send it to you via email. I will try to arrange for an sign-up sheet in the hallway where you can register your email address.
Marjorie Konrad informs me that we will have three of our scholarship students performing for us at the May meeting. They will each perform three numbers.
On an unhappy note, our sincere condolences to Caroline Murphy and her family and friends on the loss of our friend Thomas Murphy.
Hope to see all of you at the May meeting and the June dinner.
Tony Mustaro
President
Accordion Club of the Redwoods
---
April Dinner Meeting
Click slide of April Dinner Meeting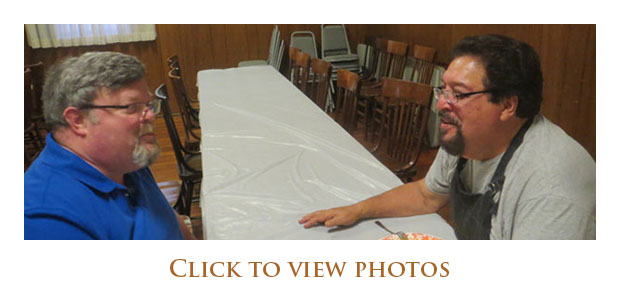 ---
Club News
Happy 98th Birthday Al Gardi on Tax Day, April 15th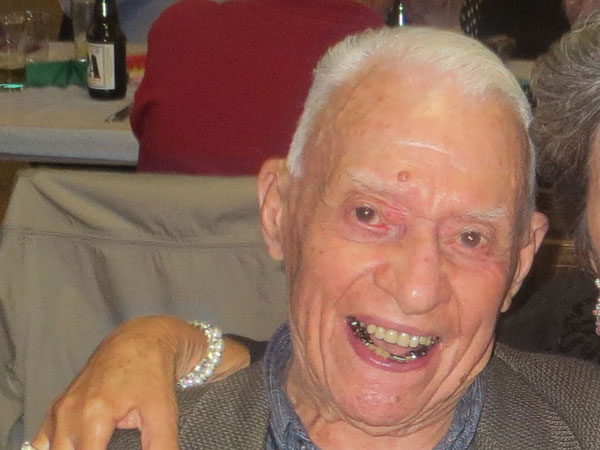 The ACR Band will have its next meeting on May 18, 2015, 6:30 PM before the ACR general meeting at 7:30 PM. All levels of players are welcome. It helps if you can read sheet music. Bring an accordion and a good measure of enthusiasm. If you would like to play in the band, please contact Xavier de la Prade at
707-769-9880 or at zavyay@gmail.com.
A heads up, we have another $8 Pasta Feed for our June 15 meeting. I hope we have a better turn out this time!
THOMAS MURPHY OBITUARY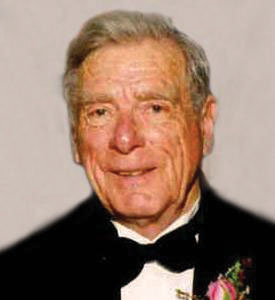 MURPHY, Thomas Lawrence Passed away in Freestone, CA, March 24, 2015. A native of Bethel, Connecticut. Age 95 years. He was the beloved husband of Caroline Mann Murphy for 68 years, loving father of Patrick Betty, deceased T. Murphy of Alturas, Ellen Ray C. Gianoli of Palo Cedro and Sean Pattie S. Murphy of Freestone. Grandfather of 11, great-grandfather of 15, and great-great-grandfather of four; uncle of numerous nieces and nephews; brother-in-law of Doris Guy Mann, Freestone, Lois and Nick Schaeffer, Crowheart, Wyoming, and Carol James Murphy, Bethel, CT; has cousins in the eastern U.S., and Tommy and Joseph Murphy of Co. Cavin, Ireland. Preceded in death by three sisters and four brothers. A Sonoma County resident since 1946, Tommy was a journeyman machinist, leadman, and foreman, retired United Air Lines. During World War II he was stationed at Santa Rosa Naval Air Station, meeting Caroline at Midway Dance Hall. He was co-founder and Fire Chief of the Freestone Volunteer Fire Dept. for many years. He was a member of St. Teresa of Avila Catholic Church in Bodega and an enthusiastic member of the Accordion Club of the Redwoods and the Five Valley Accordion Club, Hamilton, Montana. He was a man of integrity, inventiveness, and helpfulness. He relished flying, trout fishing, and playing accordion Due to the love and generosity of family, friends, neighbors, and care-givers, after a stroke nearly two years ago, Tommy was able to remain at the home he built with Caroline. The family thanks you all. Visitation was held, Friday, April 10. Our very own Bart Beninco played at his memorial.
JOHN PORDON – LEGION OF HONOR
Tuesday, April 21, 2015, eight American veterans of World War II received the medal of the Legion of Honor from the hands of Pauline Carmona, Consul of France in San Francisco, at the Residence of France.
John PORDON joined the US Army in March 1944 at the age of 18 years. As a truck driver in the 222nd Infantry Regiment, John participated in several battles on the French territory against the German armies in northern France in 1944 and 1945.
John was wounded at Cherbourg in December 1944, and was awarded, among others, the Purple Heart Medal, the Combat Infantryman Badge, the Good Conduct Medal, the European African Middle Eastern campaign medal, the Army of Occupation Medal and the WWII Victory Medal.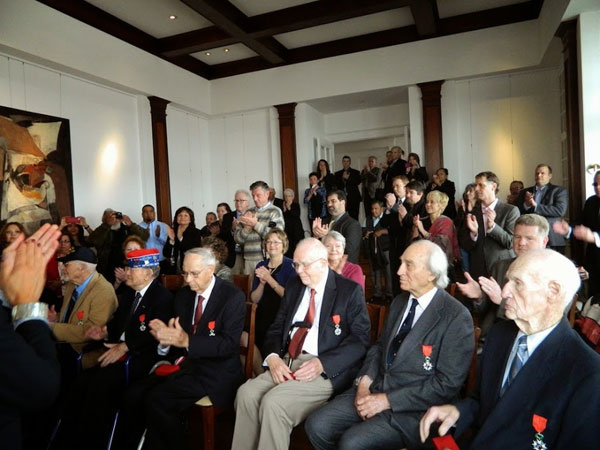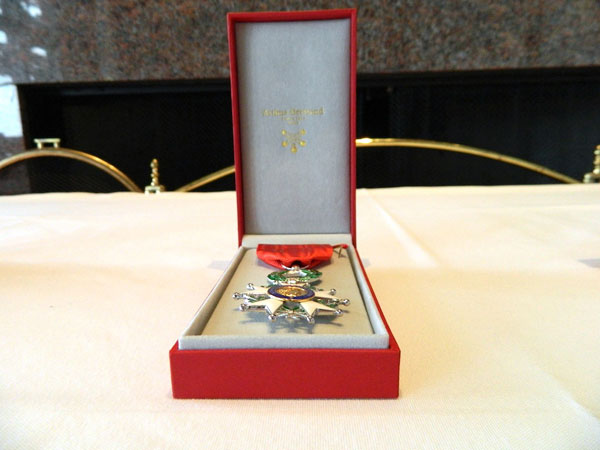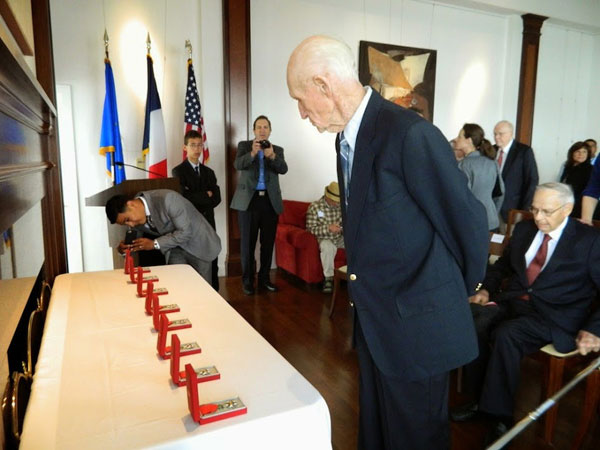 APRIL ENTERTAINMENT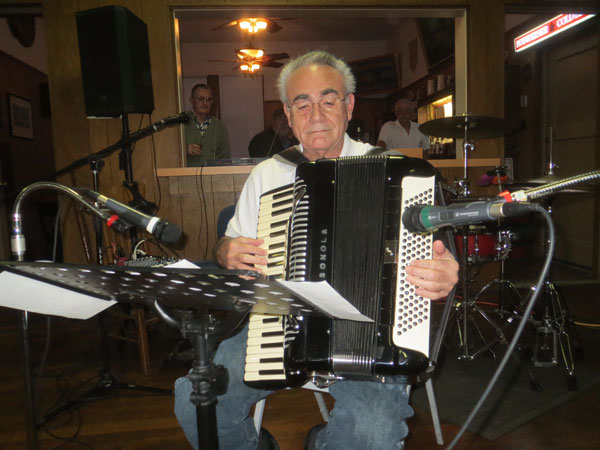 Bart's playlist was beautiful as always. He started with "Joe Chiesa's Carousel," then with "Margie," "Tango of Roses," "Tico Tico," "Elephant Walk," and finally with "Arriva Derci Roma." As usual, Bart, your music is beautiful!
Wow, I started getting writer's cramps trying to keep up with this guy's playlist. Were it not for those around me, Carola and Annette, I would not have made it. Guy started with "You're Just Too Good to Be True," then "When You Are Smiling," a Mazurka, "Under Paris Skies," "Blue Bayou," "Putting on the Ritz," "You Are the Cream in My Coffee," "The Boogie Woogie Man," and wound up his performance with "Tango Por Una Cabeza." Wow, just wow!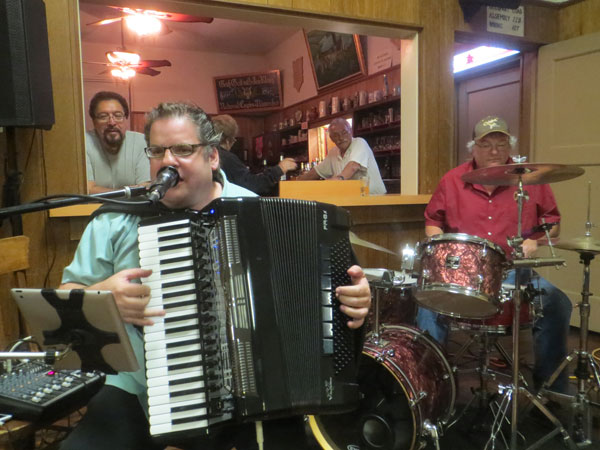 When you think it could not get any better, Steve and Jim brought it on. Steve started out with "East of the Sun, West of the Moon," then "Besame Mucho," "The Way You Look Tonight," a neopatani song Pasioni, (from a private collection of Frances Ford Coppola's) a Salsa – an original piece, "Beyond the Sea," "Look at the Moon," and "Brazil." There were a few others that I could not spell and did not know. What a night, a pasta dinner and great music for $8, how can you miss that?
---