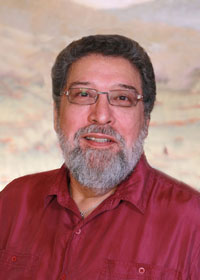 Dear Friends,
Spring is officially upon us and we are getting some late rains to keep things green for a while longer in ACR land. Our annual Spring Fling is over and we had a great time with great food and music once again. Hope you didn't miss it.
This is also the month that we choose new officers and board members for the coming year. Please contact me or any one of the board members – contact information is in the Reedwooder – if you are interested in running for a position in the club. We would all like to see more participation on the part of our members in giving direction to the club. Most of us have been at this for a long, long time and would be happy to give someone else the opportunity to serve.
Our April meeting will be on Monday the 15th and this month we are fortunate to have Mr. Guy Richards as our featured entertainer. Guy is a talented and skilled musician, and everyone has a great time when Guy plays for us. This month he will once again give one of his request concerts, so think about what you would like to hear and the odds are Guy will play it for you. Also, a reminder to the club band, Guy usually plays with us when we start at 6:30 so we'll sound a little better this month!
Days are getting longer so take advantage of the extra daylight to drive to the meeting this month and have a good turnout to show our appreciation of the professional musicians who generously donate their time and talent to entertain us. Invite a friend to join you and they're sure to enjoy the evening as well.
IN MEMORIUM of JIM BARONI
This month I have the doubly sad task of announcing the passing of Jim Baroni and Jerry Choate. We will all miss Jim's smiling face at the very back of the room at this next meeting. Jim was a strong supporter of the club and always had a good word for all. It was a pleasure to know him and on behalf of the entire club I offer condolences to Prima and Darlene on the loss of their beloved husband and father. Good bye Jim.
IN MEMORIUM of JERROLD CHOATE
Jerry Choate was a friend and a wonderful accordionist who often played for our club. He was a founding member and the current president of the Roseville Accordion Club. Jerry played professionally on solo gigs and with his band The Treble Makers – typical of Jerry's sense of humor. Our condolences go out to his wife Judy and his family. There will be a Memorial service Friday, April 12, at 2pm, Butte Bible Fellowship Church, 2255 Pillsbury Road, Chico.
Tony Mustaro
President
Accordion Club of the Redwoods