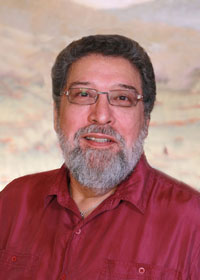 Dear Friends,
Sorry to have missed you all at the September meeting. I actually made it down to Hermann Sons Hall but was not feeling well and decided it best to return home. Thanks to ex-President Kris Nelson for conducting the meeting. According to the reports I've had, we had an excellent evening of music. I had been particularly looking forward to last month's meeting because Bart Beninco had prepared a program for us and it's always a pleasure to hear Bart play. Hopefully, we can have him perform for us again soon.
There is more sad news for our accordion community this month. We have lost another valued and well-loved member in Vince Cirelli. Vince was a warm and gentle man, an excellent musician and music teacher and a consummate accordion craftsman. He was one of a very few craftsmen in the United States capable of building a beautiful accordion from scratch. He was always there with a smile and a good word, and he was a modest and unpretentious man despite his many skills and accomplishments. Our heart-felt condolences go out to Vince's family and all of his friends. We'll miss you Vince.
This month's meeting will start out with a Gumbo feed prepared by our own Kris Nelson. If you haven't had Kris' gumbo you're in for a treat. Once again I invite you to come out and have a great meal at a bargain price followed by an evening of musical entertainment. Feel free to invite your friends and family if they haven't been to our club before (or even if they have been here before). They'll have a good time and it will give you a chance to visit with them in a relaxed and pleasant atmosphere.
Finally, I want to remind you to mark your calendars for Saturday December 8, 2012. This is the date for our annual Christmas Dinner Dance. Music of course by the Steve Balich Band for your dancing pleasure will follow a very nice meal. Friends and family are welcome as are volunteers to assist in making this evening a success. If you are interested in volunteering please contact me or any one of the officers or board members and let us know.
See you all on October 15
Tony Mustaro
President
Accordion Club of the Redwoods